Vegetable Oil Refinery Plant
Introduction to Vegetable Oil Refinery Plant
Vegetable oil and fat resources are essential to mankind as a source of nutrient and industrial raw materials. Crude vegetable oil obtained from various oil milling units is further refined before use for edible purposes. Refined vegetable oil is a process where free fatty acids are volatized, condensed and recovered simultaneously with vacuum de-colouring operation.

TINYTECH UDYOG is a prominent manufacturer and supplier of state of the art Vegetable Oil Refinery Plants in batch type units & continuous line units to get best quality refined vegetable oil. The Tinytech Vegetable Oil Refinery Plant delivers highly efficient results with excellent oil quality. It is utmost essential that the crude oil obtained from expellers and solvent plants get refined in the Vegetable Oil Refinery Plants before it is utilized directly. This purpose is fulfilled in our Vegetable Oil Refinery Plant.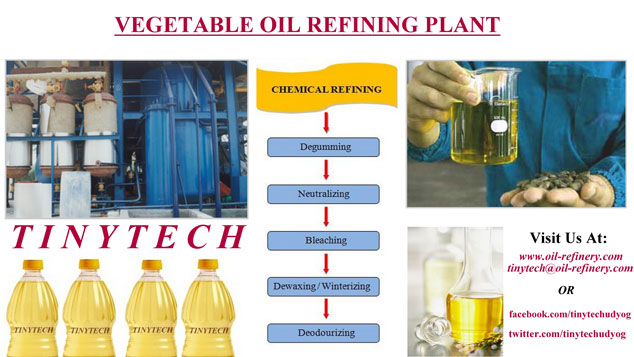 Process Overview of Tinytech Vegetable Oil Refining
The Crude Vegetable Oil contains small amounts of naturally occurring materials such as proteinaceous material, free fatty acids and phosphatides. The most common method of refining oil is by reacting it with an alkali solution which neutralizes the free fatty acids and reacts with the phosphatides. These reacted products and the proteinaceous materials are then removed by centrifuge. Following alkali refining, the oil is washed with water to remove residual soap, caused by saponification of small amounts of oil. Color-producing substances within oil such as carotenoids and chlorophyll are removed by bleaching process, which employs the use of adsorbents like acid activated clays. Volatile components are removed by deodorization which is performed under high temperature and vacuum. Finally, the refined vegetable oil is filtered and is used for the further respective purposes.
There are 2 refining methods in the vegetable oil refinery plant:

Chemical Refining
Physical Refining
1) Chemical Refining
The chemical method of refining removes the Free Fatty Acids and other impurities in a chemical way by Acid-Base neutralization process. Caustic soda is used as a base for this method. The addition of Caustic Soda to the acid completes the neutralization. This results in the formation of sodium soaps and gums which are then separated by Separators & Centrifuges. The neutralized oil is subsequently bleached and deodorized.

Chemical refining is most widely used method for refining all types of crude oils such as groundnut oil, soya oil, sesame oil, corn oil, castor oil, cottonseed oil sunflower oil etc.
2) Physical Refining
The physical method of refining removes the Free Fatty Acids in single stage of deodorization process while the gum content from the crude oil is removed in the degumming process. Some crude oils contain non-hydratable phospholipids which are not removed by chemical refining. For that, physical refining is to be done. In physical refining, comparatively more FFA is distilled out giving a high oil refining rate with minimum oil loss.
Vegetable Oil Refinery Plant - Conclusion
The vegetable oil refinery plant gives color uniformity and appealing quality to the oil by removing unwanted substances and unpleasant smell from the vegetable oil. The plant and machinery consists of neutralizer, bleacher, deodorizer, cooler and various other allied equipments. Available in various capacities starting from 5TPD to 50TPD, our vegetable refinery plant finds an extensive application for almost all types of oil seeds.

With decades of cumulative experience and expertise, TINYTECH UDYOG offers Vegetable Oil Refinery Plants with best technology giving pure, refined, consistent and stable finished oil at output. Get in touch with us to know more.